Ali Syed and Ambreen Syed visited (2014.2.5)
Ali Syed stayed with us in 2009 for 1 year when he was a PhD student in Azam University in Pakistan. He is an assistant professor in COMSATS university in Pakistan leading a group under Professor Habib Bokhasi. Ali and Ambreen visited GIGCAS on Feb 5 2014 after his last leave 4 years ago.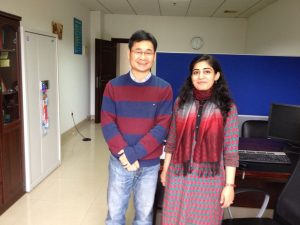 Ambreen Syed is Ali's friend. She is also form Pakistan, and is a PhD student registered in IUE of CAS in Xiamen.