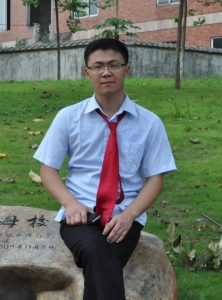 孙迎韬: 男,山西人,博士后。本科毕业于安徽农业大学资源与环境学院,农业资源与环境专业(2007级);研究生就读于华南农业大学资源环境学院土壤系(2011级),研究方向为环境污染物生物修复,导师是李永涛教授;2014年考入中国科学院广州地球化学研究所攻读博士学位;2020年7月在所开展博士后研究,合作导师为罗春玲研究员。
发表论文
Sun, Y., C. Luo, L. Jiang, M. Song, D. Zhang, J. Li, Y. Li, N. J. Ostle and G. Zhang (2020). "Land-use changes alter soil bacterial composition and diversity in tropical forest soil in China." Science of the Total Environment 712.
Jiang, L., C. Luo, D. Zhang, M. Song, Y. Sun and G. Zhang (2018). "Biphenyl-Metabolizing Microbial Community and a Functional Operon Revealed in E-Waste-Contaminated Soil." Environmental science & technology.
Jiang, L., M. Song, L. Yang, D. Zhang, Y. Sun, Z. Shen, C. Luo and G. Zhang (2016). "Exploring the Influence of Environmental Factors on Bacterial Communities within the Rhizosphere of the Cu-tolerant plant, Elsholtzia splendens." Scientific Reports 6.
Li, X., Z. Lin, C. Luo, J. Bai, Y. Sun and Y. Li (2015). "Enhanced microbial degradation of pentachlorophenol from soil in the presence of earthworms: Evidence of functional bacteria using DNA-stable isotope probing." Soil Biology and Biochemistry 81: 168-177.
Liu, X., S. Wang, Y. Jiang, Y. Sun, J. Li and G. Zhang (2017). "Polychlorinated biphenyls and polybrominated diphenylethers in soils from planted forests and adjacent natural forests on a tropical island." Environmental Pollution 227: 57-63.
Wang, S., Y. Wang, W. Lei, Y. Sun, Y. Wang, C. Luo and G. Zhang (2015). "Simultaneous enhanced removal of Cu, PCBs, and PBDEs by corn from e-waste-contaminated soil using the biodegradable chelant EDDS." Environmental Science and Pollution Research 22(22): 18203-18210.