湛江湖光岩(2004年1月)
Professor Zou was well accepted by the ladies. Zhang Xin-ying (part-time PhD., right 1) works in GuangXi Normal College, and has been a professor since 2009.
There was a strong wind on the sea. Liu Guoqing (right, 1) has been a professor in Shenzhen University since 2013.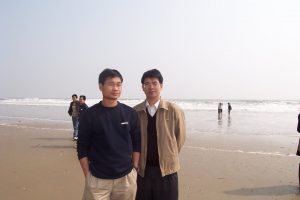 Qiu Yaowen was a part-time post doctor in the group. He works in South Chia Sea Institute of Oceanology, CAS.
Chi Jisong (池际松)was a visiting student in the gorup for 2 years. She works in the Environ. Monit. Centre of Guizhou.
They sit in the same office for many years.
Few people on the beach in the windy day.
Guo Lingli was good at lab work.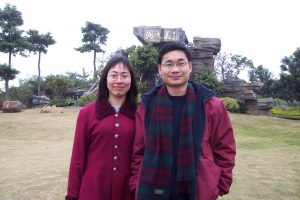 Yu Lili (Lily) went to Australia after obtained her MSc degree.
This guy is always ladies' favorite.
Professor Qi is always around.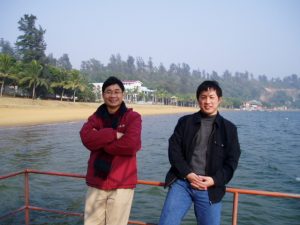 Cruise on the Huguangyan Marr Lake(湖光岩 "玛珥湖")。The lake was made by vocanic eruptions, with a deep/steep cliff surrounding and minimal land runoff feeding. This makes it a great site for sediment core record study targetting palaeo-environmental changes in South China, in particular relating to past monsoon onset/activities.